Love theme sewing and have got aqua fairies in mind? Think no more, we have got some cool stuff here! Let's talk tails and scales. Let's talk mermaids! Mermaid fabric is the most aesthetic and trendy fabric out there. Be it themed party decor, kid's outfits, or regular apparel, mermaid prints and patterns look great on all.
Include them in DIYs, crafts, or sewing projects, these mythical and magical creatures never fail to spread their magic. Sewing projects made from mermaid fabrics and prints are much more than one-time beauties. Here's how!
It's a misconception that themed fabrics cannot be versatile. Here's all about mermaid fabrics and how you can put them to use. Drive the ocean's energy to your sewing projects, with mermaid fabrics. Dive deep in!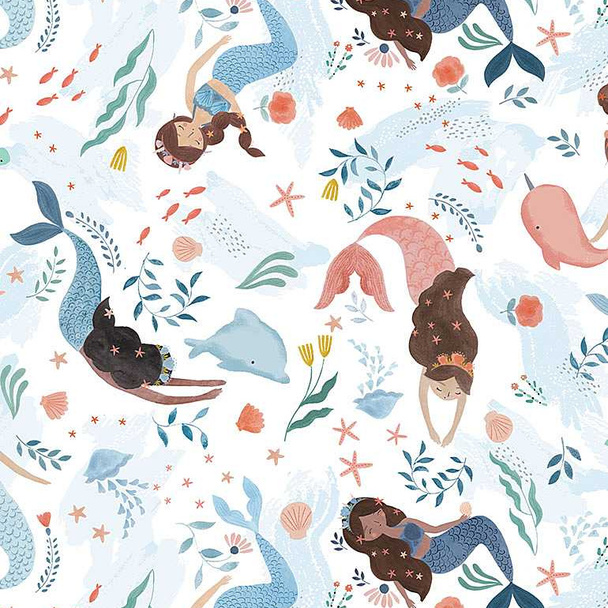 Types Of Mermaid Fabrics
Are you learning to sew, or are you a budding seamstress? Keep calm, we have got you covered. Before thinking of sewing ideas using mermaid fabrics, it's important to determine the type of mermaid fabric are you looking for. Why? This is because a regular sewing machine may not be ideal for all fabrics. Instead of getting a fabric that's not compatible with your sewing machine, it's better to determine the type of fabric that will work for you. Fabrics like sequin and faux leather may require a specialized sewing machine. So, know your mermaid fabric before cutting and sewing.
We have made three broad categories of the types of mermaid fabric:
Mermaid Scale Fabric
Let's see, what's the most distinct part of Mermaids? Their bright, shiny, scaled tails, isn't it? Mermaid scale fabrics are a textile version of those. Rather than prints or patterns, these fabrics feature shiny mermaid scales. These fabrics are available in bright shades like teal, lavender, blue, pink, etc.
The most common material used for such mermaid fabrics is spandex or faux leather.
Mermaid Sequin Fabric
As the name suggests, this mermaid fabric features multiple plastics or metallic sequins covering a cloth. It's because of this feature that all sewing machines may not work on this fabric. Mermaid sequin fabrics can be reversible sequin or a single shade sequin.
The base fabric under the sequin is usually tulle or chiffon.
Mermaid Print Fabric
Want 100% mermaid cotton fabric? Look for that in this category.
If you are looking for versatility in your mermaid fabric, this could be your go-to material. The above two fabrics are mostly used for making mermaid tails. This fabric can be used for making apparel, home decor, and other sewing projects too. Rather than scales, such fabrics feature various prints of and suggest mermaids. For instance, there could be a print featuring real-looking mermaids, little mermaid fabric, mermaid scales, and various other ocean elements too.
You can easily find such fabrics in 100% cotton, quilting cotton, polyester, etc.
Make An Ocean Of Sewing Projects With Mermaid Fabrics
Want to have sewing adventures but unsure what to create with mermaid fabrics? Here are a few sewing ideas for you:
Two Tier Mermaid Skirts
Got an ocean theme party to attend? Mermaid skirts will be the comfiest costume you can ever have. You can never go wrong with those shiny scale fabrics to create these.
Mermaid Tails
If you have kids who are in their mermaid-loving stage, surprise them by sewing a mermaid tail. These are almost similar to mermaid skirts, with the addition of tail fins. You could use a scale or sequin fabric for the tail, and shiny net fabric for the fins.
Beach T-Shirt
Mermaid and ocean prints can make perfect beach t-shirts. Just imagine, a walk on the beach with a soft, comfy mermaid print T-shirt! You know you want it.
Sheets
Kids will love pretty aqua fairies on their bedsheets. Create magical kids' room decor using mermaid fabric.
Utility Fabric Bins
How about organizing and adorning at the same time? Create multi-utility fabric bins with cute, aesthetic mermaid print fabrics.
So, you see that the options can be countless. If you have been planning on buying mermaid fabrics but are holding back thinking they wouldn't be versatile, buy now! Be a mermaid, dream big, sew gorgeously!
Wondering where to get high-quality mermaid fabrics? Broadway Fabrics has got you covered! Shop online from Broadway's collection of Mermaid Fabrics.
You can consider getting these from Broadway's Mermaid Fabric collection:
Purple mermaid fabric, Art Gallery Siren Song Orchid cotton
Mermaid Dolphin Narwhal quilt cotton summer fabric Dear Stella
Mermaid beach summer cotton fabric Dear Stella Fabrics Mermaid
Mermaid Pink Fabric, Michael Miller Magic, Mermaid Magic cotton
Navy seashell mermaid beach fabric Shell We Dance Dear Stella cotton
Mermaid ocean fabric, Heather Ross fabric Windham Fabrics quilt cotton
Available in aesthetic prints and shades, our collection starts at just $3.20. Plus, we do an all US shipping at a flat $4. Now, isn't that bomb? Place your online order now!
Final Verdict
We hope you liked the magic and energy of mermaid fabrics. Mermaids are all about colors, dreams, fantasies, and magic. Create yours with seamless sewing projects. Happy Sewing!
Recent Posts
Handmade aprons are my jam! I love making an apron for any occasion. It's a great project for m …

Hello Fabric-Fairies!For its softness, durability, and anti-bacterial properties, linen is loved by …

Hello Fabric Lovers! As you already know, this blog is all about creating interesting sewi …