I haven't written in such a long time. I have been so busy lately with sewing, working, taking care of Ryder, building our house, and so many other things that come along the way of everyday life.
We officially have a foundation for our house! We poured concrete on February 13th. It was a very exciting day for all of us because we all know that getting a solid foundation is so important and just one of many steps to building completed.
In the days ahead to the pour, I was reminded on how important it is to have a firm foundation in Christ for our lives. He gave His life so we could live, and all He wants us to do is love Him back...100%! Sometimes, life gets so busy that it's very easy to 'run out of time' in the day to spend time in prayer, reading your bible, worshiping - things I've always found excuses for. And I've come to realize that there is no excuse for not spending time with my Father. He gave me this busy life, and it's a wonderful life filled with so many blessings that I can't help but feel conviction when I get so wrapped up in my own world for even a little while. Jesus deserves all my attention because He gave so much to me.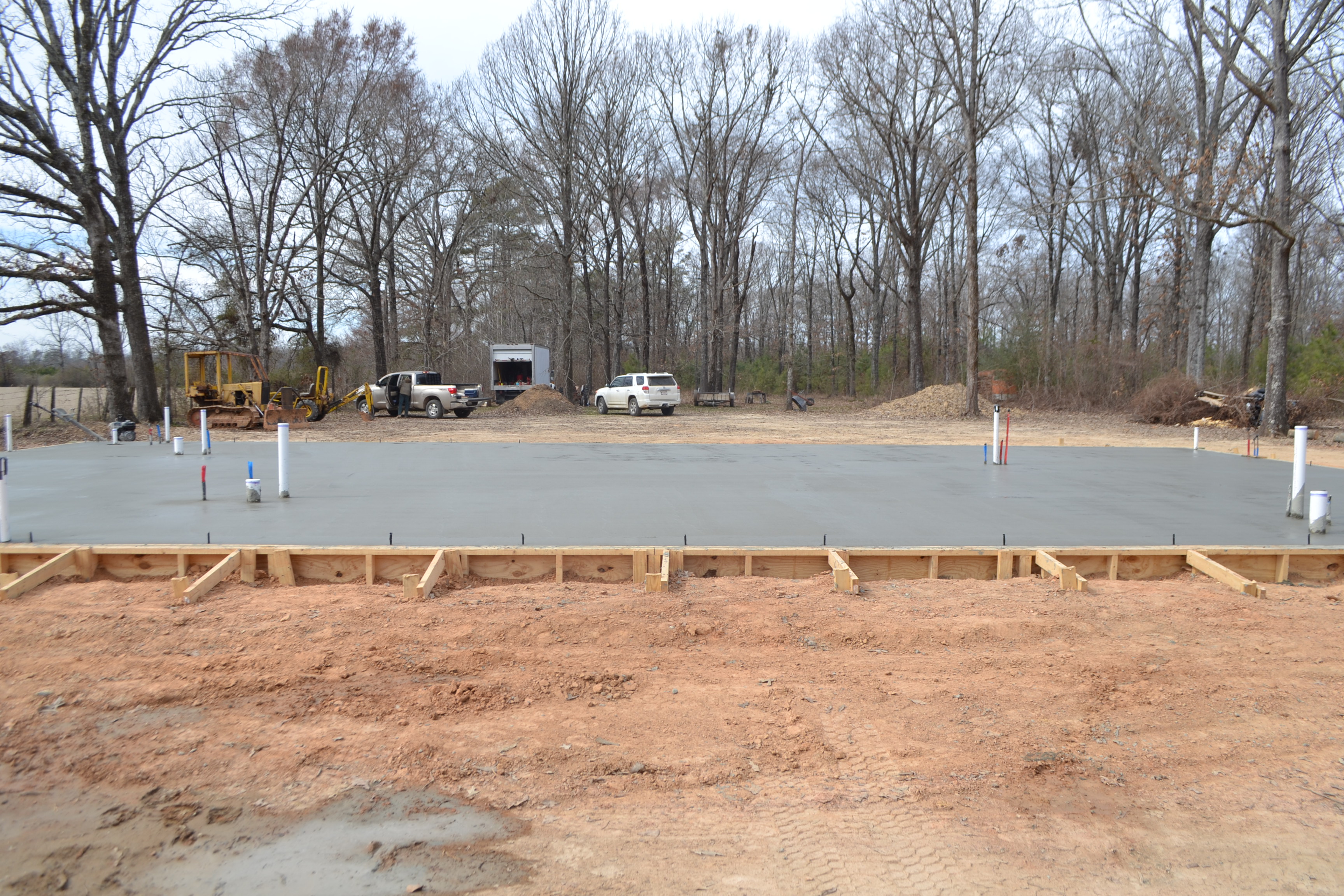 Front view of the house from the road
Back corner view
On March 14th, Ryder James Broadway turned two years old! I can't believe how fast time has flown. Seems like just last year (not 2 years!) that he was born and we were entering parenthood for the first time. He has brought us so much joy. He is so outgoing and has a sweet personality. He doesn't say much, but when he says 'Momma' and 'Dada', it brings a smile to my face every time. Our prayer for him is that he will grow to know how much love Jesus has for him and whatever he strives to accomplish that he will carry out God's will for his life. He is not our child, but God's. We are so grateful God has given us a precious gift to care for and love while we are on this earth. We celebrated his birthday on Sunday with our family. He had a construction party since he loves trucks so much! Here are a few pictures from his party: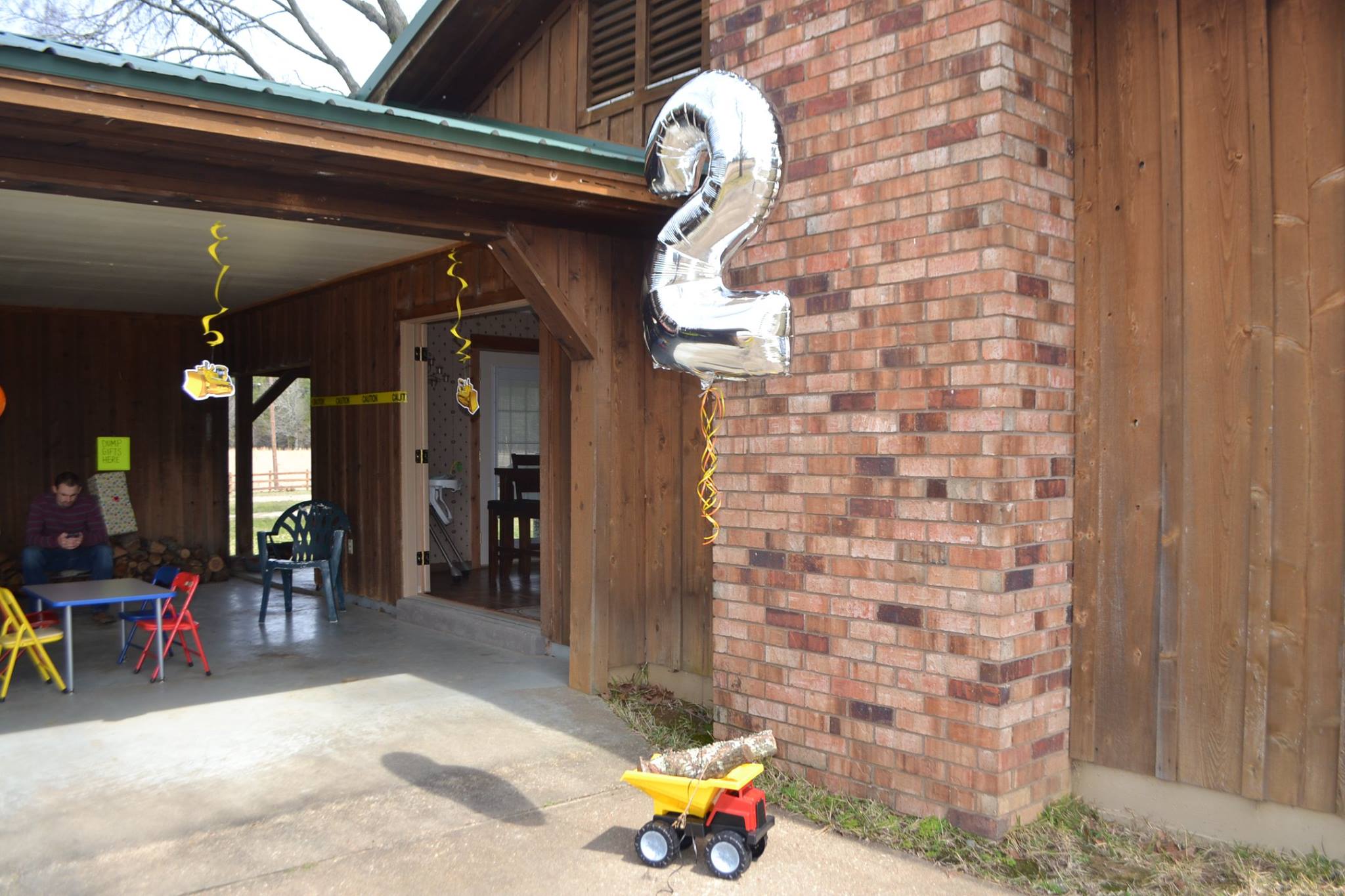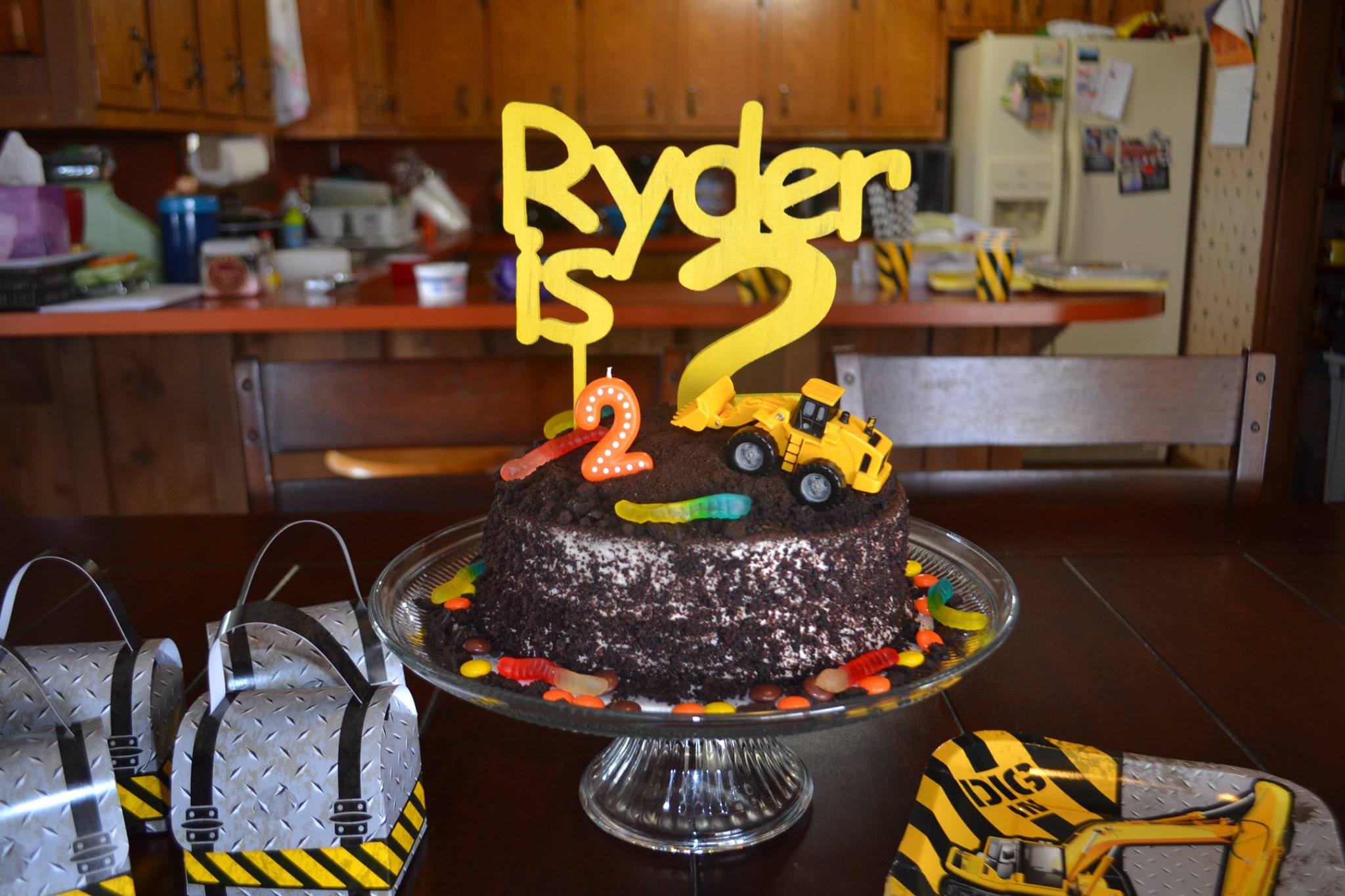 He LOVED his cake! He was eating the gummy worms and Reese's pieces while I was getting the candle ready.
I guess now I am to the GOOD news! Have you been in anticipation the whole time???! :) I tried my best to make you read a lot before getting to the good part. Haha Just kidding! Well, here it goes....
I have a confession to make. A couple months ago I made a new shirt design that I posted on my Facebook page. I wasn't thinking too much about it, I just wanted to share something I did. I get really excited when I finish something new and want to post it almost immediately! But the 'Big Bro' shirt I made is for RYDER!!! Yep, we are having another baby! It's so exciting to finally share the news. Our friends and family have known for about 5 weeks now. We are due September 20, 2015. The journey to this pregnancy has been an answered prayer and a testimony I'd be happy to share with you in a later post. Two things I learned over the course of several months is SURRENDER and TRUST. Surrendering my desires and dreams for another child and trusting that God WILL answer my prayer in HIS timing was so hard to do, but it's something He commands of us in order to live completely for Him.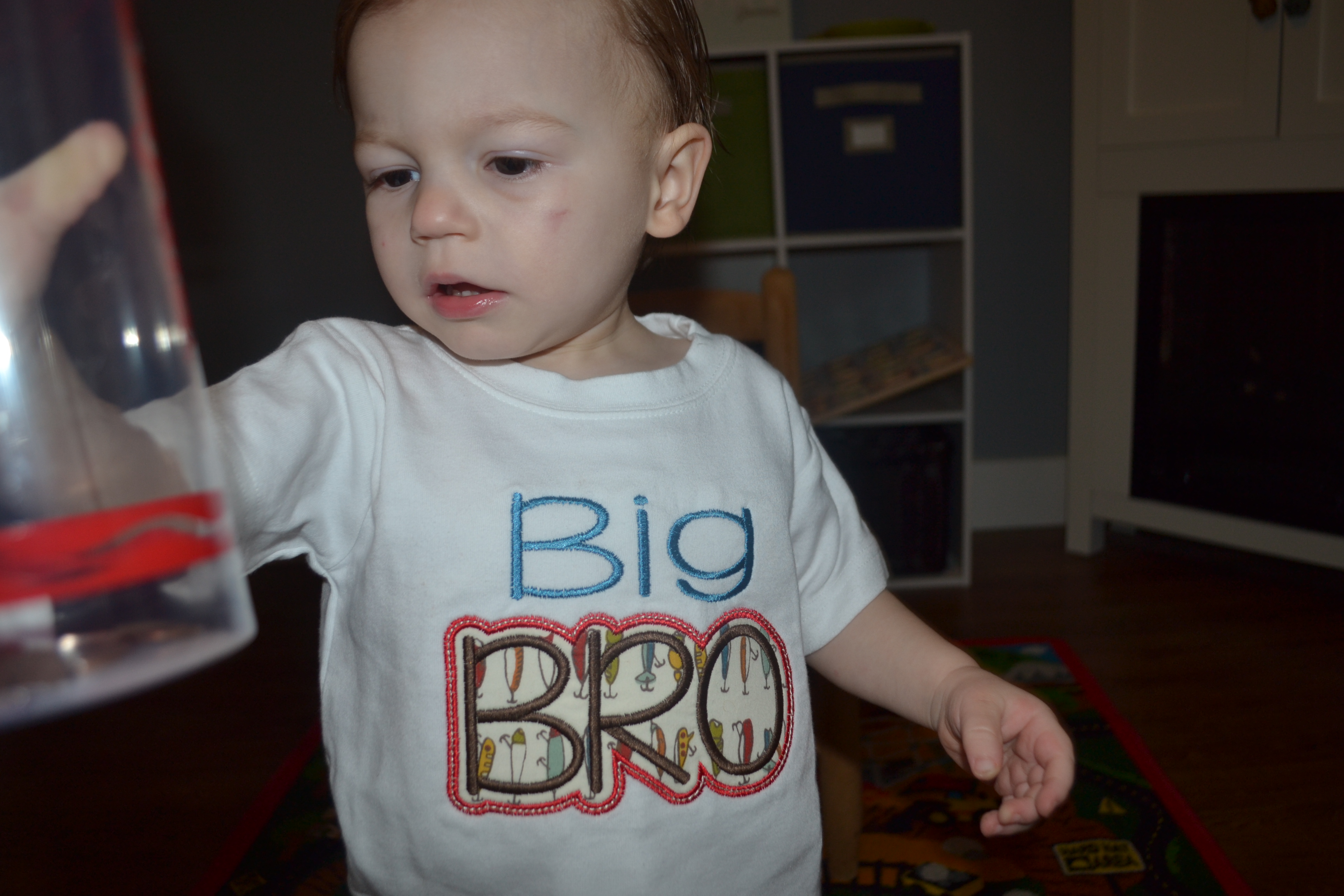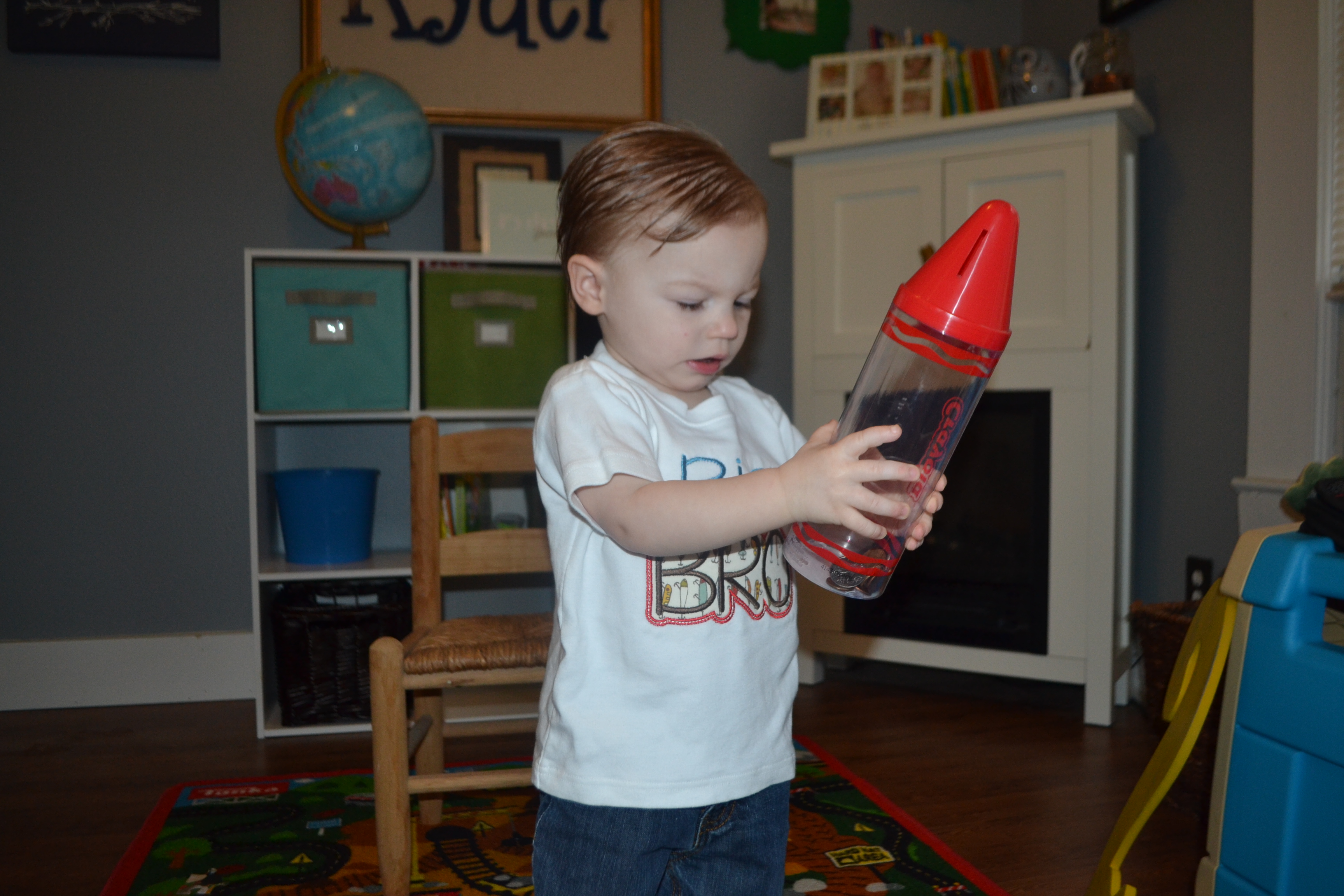 He was having a lot of fun with his bank and kept shaking it
Well, that was my news! I hope you come back to see more about my business, the house progress, and my family (soon-to-be of FOUR).
Thank you for reading,
Michelle